Say Hello to a brighter TV experience!
We are 100% focused on providing the very best premium service at the very lowest prices! We don't believe that your entertainment should cost an "arm" and a "leg"!  We are creating a new generation of Premium Low Cost TV!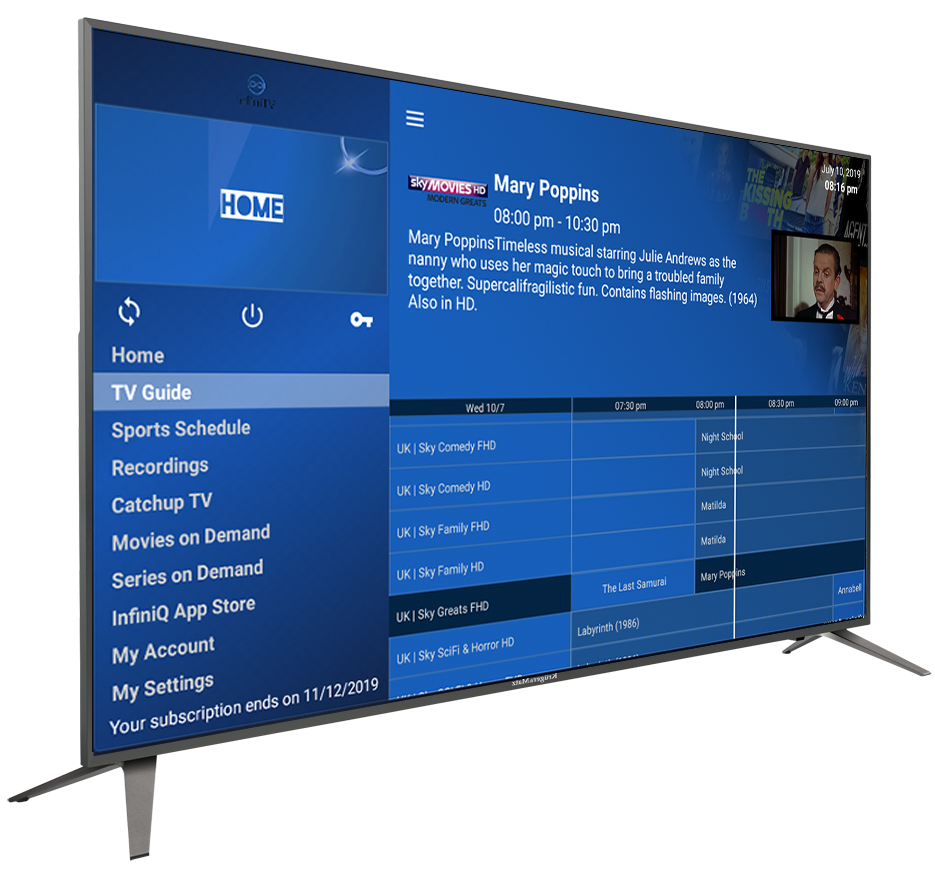 Get the Whole Family Connected
From your living room to your morning commute to work. As long as you have a compatible device and an internet connection, you'll be able to login and stream your favorite shows and movies.
Accounts are available to allow up to 3 people to stream at once. Perfect for when the family want to watch different things.
Get Everything You Need With Just One App
Our flagship Infini Q app allows you to watch Live TV, Catchup and On-Demand Movies and Series all from one simple app.
Intuitive Interface, Electronic Program Guide (EPG), Multi-screen functionality and integrated Sports Schedule guide. 
Includes In-Built VPN support.
Get Watching on All of Your Devices
Connect to the InfiniTVservice using any compatible device or app.
Compatible devices include an Android Box, Amazon Firestick, Smart TV, Android Mobile, iPhone / iPad, PC / Laptop or Mag Box.
Providing you have one of the above devices, we can have you setup within minutes. 
In addition to our Flagship infini Q app, you can access our service using a variety of available 3rd parts apps such or a even a web browser.
(Minimum 10mbs Download Speeds Required)
For Everyone
Built For Movie Lovers, Boxset Bingers & Sports Fans
Whatever type of Television you like to Watch, InfiniTV has you covered!

Minimum 10 Mbps Download Speeds Required
So you've seen what InfiniTV can do and now you're ready to get involved! Join today with the right package for you and get watching.